New StockPair Review For The 2013-2014 Period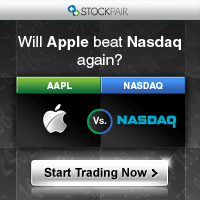 We have personally been fans of this broker since first discovering their service back in late 2010 when we opened an account to try them out for our first StockPair review. It was supposed to be a standard 30-day review period but here we are over 3 years later and still haven't gotten around to closing out that account haha. We were quickly hooked. And the StockPair service has only grown even more impressive in the years since then.
StockPair Review Basic Information
StockPair was launched in mid-2010 by the firm Nextrade Worldwide Ltd., and is based in Cyprus. StockPair is also one of the only brokers that has its own unique and proprietary trading platform. This is due to the fact that they specialize in a unique trading product, Pair Options. They are also one of the most popular brokers currently serving the US market.
More StockPair Basics
Minimum Deposit: 200 Currency Units (USD, EUR, British Pounds)
Max Return Rates: 85%/350%
Minimum Trade: 20 Currency Units
Maximum Trade: 6,000 Currency Units
StockPair Demo Account? Yes – For Depositing Customers
Welcome Bonus Available? Yes – 20% For Standard Accounts
Mobile Compatibility? Yes
Accepts US/UK Clients? Yes/Yes
Platform Languages: English, French, Italian, Spanish, German, Dutch, Arabic, Russian and Greek!
Contract Varieties: High/Low, 60-Second and Pair Options Specialization
Our Overall StockPair Review Score: 9.1/10
Read on for our complete StockPair review…

StockPair Platform Accessibility/User-Friendliness – (8.5/10)
StockPair has successfully managed to integrate binary options and pair options trading into single, user-friendly yet advanced and flexible trading platform. As mentioned earlier StockPair uses a completely different and proprietary platform, designed and implemented by themselves using the very latest in trading technology. It provides reliable, clear and simple binary and pair options trading capability for all experience levels.
Some may find the pair options trading a bit confusing at first due to their very uniqueness. However, StockPair provides some great educational material on the subject and in addition to that they will even set you up with a demo account to practice with upon request. With these tools you should have no problem getting the hang of pair options in no time at all. And those who may be more used to trading in forex will actually find pair options trading to be much more familiar than standard binary options trading (like forex, pair options are also a relative performance speculative vehicle). Overall we think most people will find the StockPair trading platform – both binary and pair options – quite user-friendly and easy to learn. We give them a score of 8.5/10 for this category.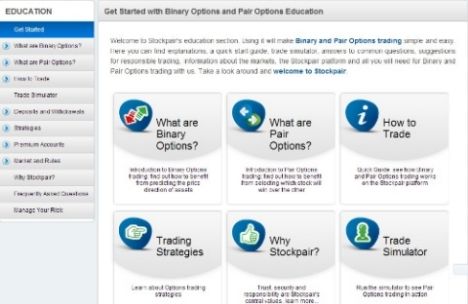 Review of the StockPair Trading Platform & Features – (9.2/10)
StockPair's unique and proprietary platform is essentially two connected, but separate trading platforms. There is, of course, the pair options platform which StockPair has specialized in from the beginning; and then there is the more recently added "traditional" binary options side. Lets briefly go over the standard binary options trading first.

While StockPair's binary options platform may not be as "feature rich" as those of some other top binary options brokers (due to their recent entry and past pair options specialization) it is still a surprisingly strong competitor here and even has a few distinct advantages over even the very best of their competition. In addition to their truly outstanding asset selection (which we'll get to in a bit) for the standard High/Low binary options some highlights of the StockPair platform would have to include:
*** Expiry times available from 60-seconds all the way on up to 150 days! One of the widest ranges we've seen.
*** Far and away the best technical analysis charting functions of any binary options broker which we are aware of.
*** Manual "Close Early" Function allowing you to sell back an open position prior to expiry.
*** Auto-Closing for trades using the "Trade Control" feature (similar to a stop-loss/take-profit mechanism).
*** Fresh market sentiment and asset history graphics (can be seen in image above). And more…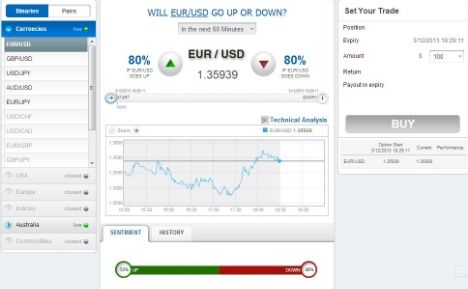 And now for the Pair Options trading platform review. This is where StockPair truly shines as a broker. They are the undisputed masters of pair options trading and it is because they do it very well indeed. There are a few other top brokers that are beginning to provide some pair options trading functionality on their platforms but none that can come anywhere near competing with StockPair. Pair options provide for a simple means of trading on the relative performance of two "paired" assets (just like forex basically).
As a broker who was originally solely dedicated to pair options, StockPair's trading platform is very well customized for quickly and easily trading in these products. Pair options at StockPair come in two distinct varieties: "Fixed" and "Floating." The floating contract type comes in 3 pre-set expiry choices of the end of the day, week and month. While the fixed pair options contracts, like their binary options contracts, are available with expiration ranging from 60-seconds, all the way up to a whopping 150 days. These longer dated contracts are great for hedging purposes or for constructing less speculative trading strategies. Now without going in to too much detail and making this article too unbearably long we would like to briefly go over how these two types of pair options are traded using simple example trades.
Fixed Pair Option Contract With Example Trade
Lets say a trader opens a position on a Monday for the Apple/NASDAQ pair using a fixed pair options contract for $100. Our hypothetical trader believes strongly that Apple will outperform its parent index, the NASDAQ over the next hour and places his trade accordingly. Because fixed pair options are "normalized" to set both assets equal to each other at the opening of the trade the return rates for fixed pair options are fairly standard, with returns generally in line with those available for regular binary options contracts. In the case of our fictional trade StockPair is offering us a return of 80% if Apple does indeed outperform the NASDAQ over that next hour. Since our hypothetical trader is an awesome one we will assume that the trade was successful. So, $100 (1 + 0.8) = $180 pocketed for this successful fixed pair options trade.
Floating Pair Option Contract With Example Trade
With floating pair options the paired assets are NOT "normalized" at the beginning of the trade. This means that if you open a trade and one asset is currently outperforming the other by some few percent or more, then the returns offered for choosing the "underdog" can be very high indeed. Up to 350% in fact. Of course, higher returns means higher risk. And because the relative performance for these contracts is measured from the beginning of a set period, rather than from the beginning of the trade, they can only be offered in 3 fixed-period contracts of the end of the day, end of the week, or end of the month. Lets look at a quick and simple example trade shall we.
Our hypothetical trader is riding high off that last successful trade and decides to push his luck with a more risky, but higher returning floating pair options trade. So, a $100 position on the Apple/Microsoft pair is opened, with an end of the week expiry. At the time the trade is opened Microsoft is outperforming Apple by almost 3% but your best friend Steve Jobs has just told you that he will be announcing the new iPhone 9sx with built-in mini-bar! With this inside info you feel pretty confident that Apple will easily make up this 3% deficit over the next few days and the current return rate offered for this trade is a very attractive 213%. Assuming our buddy Steve Jobs wasn't just messing with us for giggles, and assuming we do not close out the trade early, our $100 investment would return to us $100 (1 + 2.13) = $313! Nice. Thanks Steve!
Overall, doing this latest StockPair review has definitely shown us that they have done a surprisingly effective job of bringing together both binary options and pair options on one polished and easy to use trading platform. Certainly more so than any other broker currently operating. It is also one of our personal favorites as a binary options trader and fan of pair options.
Review of StockPair's Underlying Asset Selection – (9.6/10)
Yet another area where StockPair really stands out from the crowd. They offer more trading selection than all but a very few other binary options brokers. While the available asset selection at StockPair is constantly growing, it currently stands at the following:
*** 85 Popular Global Stocks
*** 4 Major Commodities
*** 7 Global Indices
*** 12 Major Currency Pairs
For a total of over 100 underlying assets from which trades can be constructed. But this is only the beginning. Due to the pair options service of StockPair there is actually many more trades that can be made on top of this base of 108 assets. In fact at the moment there is over 65 additional pair options combinations exclusive to StockPair.
*** 26 US Stock Pairs
*** 13 EU Stock Pairs
*** 5 AU Stock Pairs
*** 17 Index Pairs
*** And, of course, Fixed or Floating Contracts
This incredible lineup essentially means that there is always a good trade to be found somewhere, anytime of day or night, and any day of the week. One of the very best lineups out there, we feel a StockPair review score of 9.6/10 for this category is quite appropriate.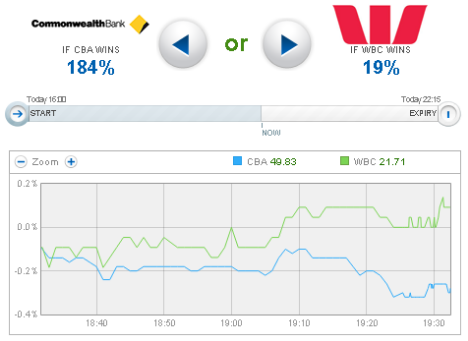 Overview of Return Rates Available at StockPair – (8.9/10)
StockPair actually offers very competitive return rates of up to 85% on standard High/Low binary options, and up to 350% on their more exotic Floating Pair Options contracts. Fixed pair options are priced similar to the standard binary options, with similar return rates offered.
Maximum return rates, however, never tell the full story on how good (or bad) a broker's return rates are on average. We usually try to get a feel for this in the short time we have during a regular 30-day review period. However in the case of StockPair we have been customers for quite some time and over the years have accumulated many months of combined trading on their platform(s). Over this time we think we have gotten a pretty good feel for the overall/average return rates available at StockPair. We can definitely confidently say that their return rates are above average at the very least. On most binary options trades you can expect to see payouts in the upper 70′s, with many trades breaking into the low-mid 80′s. And as for the floating pair options contracts you cannot calculate any kind of average because the return is totally dependent of the relative performance of the paired assets you choose. And this value can be anything, at any time. All you can say for these contracts is that they "max out" at 350%. The rest is up to you and your choice of asset pairs.
When you take everything into account we think you'll find that overall StockPair is highly competitive with other top brokers in this category. They are not, however, the very best for return rates of the brokers we have reviewed and as a result this is StockPair's lowest scored category in this year's review at 8.9/10. Still a very respectable score though.
StockPair Customer Service Review – (9.3/10)
StockPair's customer service team is available 24/7/7 – around the clock and through the week – by online chat, email, or telephone. This customer service is also offered in English, French, Italian, German, Spanish and Russian.

StockPair's customer service reputation is generally considered outstanding, with hardly a serious and credible complaint to be found anywhere. That means a lot in the somewhat "wild west" atmosphere of the binary options trading world. A long-standing, solid reputation as a reliable and trustworthy broker is something StockPair carefully cultivates and maintains. In addition they know the value of treating even their small depositors as the valuable clients they are. The positive word-of-mouth this brings them surely results in the landing of bigger fish. Smart moves in our book.
All of our recommended brokers meet high standards for reliability and overall customer service but only a few have the long supporting history that StockPair has. Which is why a review score of 9.3/10 for customer service is well deserved.
StockPair Review Concluding Remarks…
StockPair is one of our favorite places to trade. Not just because of their great service and awesome trading lineup, but also because trading in pair options is just plain good 'ol fashioned fun! This is quite simply one of the best brokers in the business at this time and one of the few which we can recommend wholeheartedly, without the slightest reservation. Because I know they won't do us wrong and ruin our reputation by treating their customers in anything other than a fair manner. They truly value their clients, both big and small, and it definitely shows up in most everything they do.
When we take all the important categories covered in the review above together and average them out, we arrive at an overall StockPair review score of 9.1/10, a very impressive overall score indeed. This easily puts StockPair in the top 5% of brokers which we have reviewed over the years. We hope that they can keep up the good work!


And as always, if you give StockPair a try, or you already have experience with them then we want to hear from you! More importantly, your fellow traders want to hear from you. Your experiences are invaluable to the community! Please feel free to comment or to contact us.